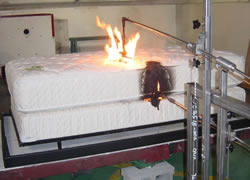 1633, 1632, CPSIA Flammability Compliance Assistance
Flammability compliance is what we do. 1633 was the largest change to hit our industry in its history. However the standard, the knowledge we've gained about compliance, and the things we have learned about materials and their effect on the fire equation continues to constantly evolve. New laws are constantly being evolved. Whether it is basic 1633 or 1632 compliance, or the more complex CPSIA rules on children's and infant products, we offer complete compliance solutions for everyone. Crib mattresses, children's products, toppers; they all have special rules you must comply with. From Build Sheets to Certificates of Compliance we ensure that your recordkeeping has everything it needs to prove your continued compliance.
Big Sky Bedding Consulting has helped over 150 companies understand and establish compliant recordkeeping. Our client base means that we can continue to offer the industry's best assistance package at the lowest possible price.
In today's business climate, changing components, including your FR Solutions is the norm. You must have multiple sources of materials to ensure you are competitive. 1633 and 1632 have specific requirements that must be met whenever you change components, especially FR Materials. This "ORC" Objectively Reasonable Criteria as the CPSC refers to it is critical in your continued compliance efforts. Big Sky Bedding Consulting continually teaches you and your staff about evolving product and helps you stay on top of all changes, including what needs to be tested, what needs to be documented. Proper ORC depends upon the quality and proper documentation of your Qualified and Subordinate Prototypes. We'll even help you create all your documentation. Are you sure your data will pass CPSC inspection? When was the last time you ran a test audit to ensure that you could put your hands on all of the required data at a moment's notice? Most importantly are you sure all your products will pass?
Fabric and the fuel equation cannot be separated. Since early in 2007 the industry has understood the risks of polypropylene. Yet factories continue to use it, especially in border fabrics. Why, I have no idea other than you can save a few pennies. But the risks involved are significant. Recently, we've learned that other fabrics contribute to the fuel equation in a significant and extremely negative way. The results can be surprising because many of these "high risk" fabrics have 1632 ticking classifications of A. Clients of Big Sky Bedding Consulting have a testing tool at their disposal to determine the real risk of a fabric
Don't forget about 1632. You are still required to have ticking classification records for every top panel ticking you us. Caution must be used. As always, you must avoid Class C ticking. However there is a new "risk". A number of the stretch knit fabrics are Class A by 1632 definition. This is because they have high loft in the weave, that when the fabric is burned with a cigarette directly over raw cotton the char does not affect the cotton. Therefore it is an A by definition. Keep in mind when the 1632 law was written there were no stretch knits. These are effectively acting like a quilted cover in the box tests.
However that data is very misleading. Many of these same fabrics categorized correctly as Class A, pose a significant fuel risk in a 1633 open flame test. This has to do with their material content. Big Sky Bedding Consulting clients are continually warned of these risks and the materials to avoid. Clients also have access to lab testing so they know for sure how a fabric will behave….before they use it!
In addition your 1632 Prototypes must be kept current through your changes. Every time you make a change in FR Barriers, you've likely altered your 1632 Prototype data and additional testing is required.
Big Sky Bedding Consulting is not in the disaster recovery business. We don't work for companies who have gotten themselves in trouble. We work up front with clients who do not want to have any issues. Clients who want to ensure that their products and their recordkeeping are compliant. We structure our affordable annual packages to allow even the smallest manufacturer access to up to date compliance information and answers to all of your compliance questions. We pride ourselves on our responsiveness. Ask any of our existing clients. Compliance is affordable!