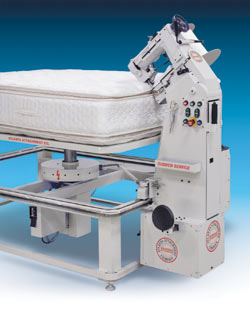 Thank you for your interest in
Big Sky Bedding Consulting
Our "Mission" is to provide all mattresses manufacturers with the experience and expertise formerly only available to the large "S" companies. You no longer need to have expertise on staff, you can avail yourself of the industry's expertise and stay abreast of all changes in FR Compliance all in one location, all with a simple all-inclusive agreement.
Big Sky Bedding Consulting offers a complete range of 1633, 1632 and CPSIA compliance services including full compliance audits, recordkeeping system design and review, CPSC audited and acceptable forms, up to date advice and assistance with regards to all things you need to know about flammability and Federal and State Compliance. We stay abreast of all changes and strive to ensure that our customers have the most up to date information at all times. Big Sky Bedding Consulting constantly stays in touch with the CPSC and stays abreast of all industry news. Since July 2007, Big Sky Bedding Consulting clients have been audited dozens of times, with perfect results every time. If your goal is to ensure that you are in compliance with all rules and regulations then you have found the place where you can get everything under one roof. Our goal is to continually educate your staff, so you can be 100% sure that you are doing it correctly.
In addition to flammability consulting, as a client you have access to 30+ years of bedding industry production knowledge and connections, all included in the same annual fee. Every manufacturing plant is different, therefore every solution is different. But you don't need to re-invent the wheel. We know what the CPCS expects to see in your recordkeeping. You should too!
With a client base exceeding 100 customers of all sizes we can ensure that your recordkeeping meets every CPSC expectation.